Head & Foot Adjustable
Image shows head and foot adjusted (and hi-low fully raised). All Transfer Master beds are head and foot adjustable. This allows for your head and feet to be elevated.
---
Hi-Low
Image shows an adjustable bed in the fully raised position, demonstrating the ability to vertically raise the bed from its lowest position for easy of transfers, and this also eliminates back strain for caregivers.
---
Trendelenburg
The user is in a supine position, lying face up, and the bed is angled so that the feet are above the head. This position has many benefits, typically with issues such as low blood pressure.
---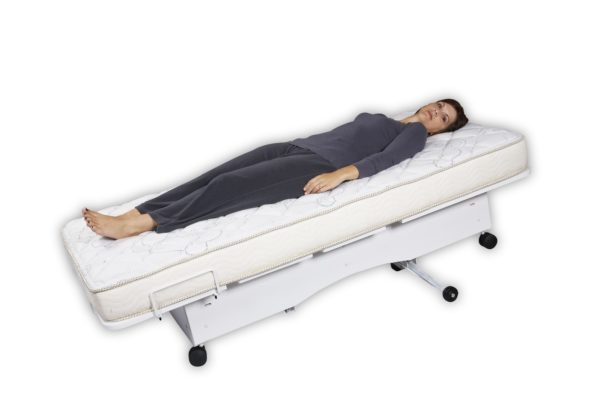 Reverse Trendelenburg
The user is laid flat in the head-up, feet-down position. This facilitates respiration, and alleviates regurgitation problems and acid reflux.
---
Cardiac Chair Position
This position provides relief to the lungs and circulation, and assists them in coming from a fully flat position to a sitting position without causing harm or undue strain. The cardiac chair position is usually easier to adjust, with separate sections that support back, bottom, arms, and legs. This position requires a 4 function bed.
---
Dual King Setup
Our Dual King option is the perfect way to meet the differing needs of any couple. Each bed, separately controlled and sitting side by side, look the same but have entirely different functions. When both beds are in the lowest position and covered with linens, the Dual King looks like an eastern king size bed.
---
ECU Compatible/Dual Ports
Environmental Control Unit (ECU) enables third party control systems (e.g. touchscreens or voice-operated systems) to be plugged in to our control boards. The control board includes two ports for maximum flexibility. The following beds are ECU compatible: Night Rider Series, New Valiant Series, and Companion Series.
Learn More About Transfer Master Hospital Beds
There are many options for hospital beds. Start here to have your questions answered, to learn more about hospital beds, or to see the options that can be added to your hospital bed to make it even better.